PoCom Advanced PC-Based Porsche Diagnostic Kit - All Porsche Vehicles
Advanced Porsche Diagnostic Kit
Suitable for all Porsche vehicles
Manufactured by PoCOM | Part #NEM4002PO
---
Advanced PC-Based fault diagnostics for All Porsche cars
The PoCOM package supports fault code reading (and clearing) and hundreds of sensors and bi-directional controls from the engine, transmission, body, and chassis controllers on Porsche cars.
There is no restriction on the number of vehicles this tool can be used on, so ideal for Porsche workshops, Porsche dealers, Porsche Clubs, or Porsche owners.
Finally, you can look after Porsche cars at home or in the workshop without needing to visit the dealer!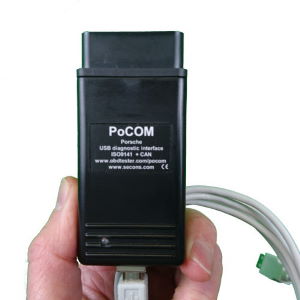 Vehicle coverage
Porsche vehicles are supported from the early-1990s (16-pin diagnostic socket required), up to some newer 2019 models.
Coverage for newer models is expected to follow in future (free) software updates.
For a full supported vehicles list, please see this page
What features are available?
Fault code reading and clearing from all modules, e.g. engine, airbag, ABS, automatic gearbox, air-con and many more
Automatic ECU recognition
Automatic vehicle scan
ECU Identification
Freeze frame reading
Measured values / live data
Live data recording
Actuator tests
Control unit coding
Configuration
Which special functions are available?
PoCOM supports a wide range of special functions including the following: (Please note - not all functions are available on all models)
Component actuations
Gearbox basic settings and adaptations
System calibrations
DPF regeneration
Fuel system bleeding
Diesel injector coding
Steering Angle Sensor calibration
Convertible top calibration
EPB servicing
Level control
Battery replacement
...and much more!
For a full list of supported special functions by model, please see this page
What do I need to use the package?
A laptop or PC running Windows 7, 8 or 10 with a USB port.
The package includes all necessary software (latest software version provided as a download) and the USB to Car 16-pin connector lead.
What about updates?
This package includes free updates.
**See what our Customers say about this product or add your own review**
(Click to expand)
Customer Reviews
PoCom Advanced PC-Based Porsche Diagnostic Kit - All Porsche Vehicles
Ordered this product? We welcome you to add your own review below to help others with their buying decisions.